DC503 30KV Instead of simco CM30 Chargemaster 30KV Charging Generator - DC503 (Case type)
Item specifics
Price

Negotiation
Delivery Time

Negotiation
Original

China
Description
Instead of simco CM30 Chargemaster
DC503 (Case type) 30KV Charging Generator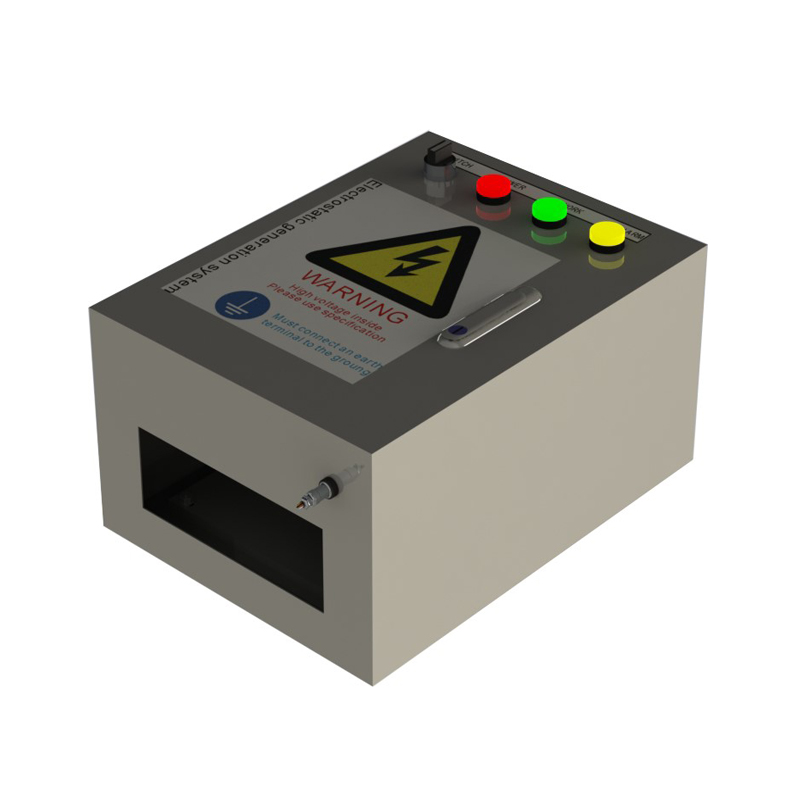 Introduce
DC506 case type charging generator is a kind of static application equipment.
The static charging generator is composed of a static emitter (bar) and a DC high voltage power supply.
For DC high voltage power supply, provide plasma launcher(bar) of negative (or positive) high voltage,
to emit negative ions (or positive ions) and then add electronic charge(artificial charge) on an object (workpiece).
The higher the voltage, the greater the effective range. It is widely used in non-woven fabric, film, painting, printing,
flocking, sorting and biological engineering fields. It have many advantages like simple installation,
fire protection, no electric shock and stable work.
Safety Instruction
1,Please make sure that the equipment has been cut off before installation;
2,Equipment installation and operation must be performed by qualified electrical engineer;
3,Ensure that the equipment is properly grounded before the equipment is running.
This is a necessary condition of the safe and effective operation;
4,Without written permission, please do not repair the equipment without authorization,
otherwise the equipment will not be provided warranty service;
5,The troubleshooting need to be operated by professional engineer. Before checking the fault, please cut off the power supply.
Control and maintenance
The output voltage of charging generator can be proactively released to avoid unnecessary charge of
the high voltage stored in the high voltage power supply and the surrounding objects,
to minimize electromagnetic interference
1,If the signal line be controlled by an external controller, must through a relay or isolation optical coupling;
2,High precision fine-tuning booster control, the accuracy can reach 0.01KV;Keep dry, no dust, dirt and chemicals;
The problems caused by dust accumulation for a long time is beyond the scope of the warranty.
Instead of simco CM30 Chargemaster Installation:
(1)Installation

① Place device level;
② Grounding the equipment and ensure the reliability of the ground;
③ Fixed the charging bar,charging bar bracket should be insulated,
pin toward the surface which need to add static and connect the wire to the output of the charging generator;
④ Connect device to power supply(100V ~ 240V);
⑤ Cooling fan.
After the above steps, can start testing.
(2)Operation and Testing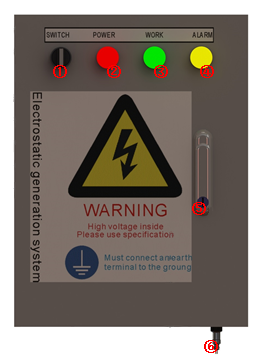 ① Power master switch;
② Power Indicator;
③ Work Indicator;
④ Temperature alarm indicator;
⑤ Door switch;
⑥ External control signal line.
Instead of simco CM30 Chargemaster Test procedures:
1. When the signal line is controlled by external device, the power supply need to be switched first,
and then use external device to control closure of signal lines.
2. Clockwise rotation switch, power indicator light, cooling fan start;
3. Work indicator light, said the work is normal;
4. The alarm indicator light indicates that the internal temperature of the equipment is too high, need to cool down.
| | |
| --- | --- |
| Input Voltage | 100V~240VAC |
| Max Input Power | 200 W |
| Output Voltage | 30 KV |
| Max Output Current | 5mA |
| Max Output Power | 150 W |
| Output Polarity | - Negative/+ Positive customize |
| Working Temperature | -15℃~50℃ |
| Output Stability | Max Load 1% |
| Output connector | 1bit High voltage output |
| Voltage control | Stepless pressure regulation |
| Remote control | Support signal line remote switch control |
| Weight | 7 kg |
| Size | 500*400*200mm or 400*300*200mm |
6. Protection
This product has protection function of short circuit, over current and temperature alarm.
7. Maintenance
1,The device has no components that user can repair by themselves;
2,If the user replace the non-original parts, there is no warranty;
3,If need maintenance, please contact the manufacturer.
8. Attention
1. The generation effect of generator is related with ion emitter (bar) structure and installation.
Generally, the electrostatic ion(bar) need to design according to the machine;
2. The generator must be sure that it have grounded safety, otherwise it will affect the charge effect and produce the unsafe factors;
3. DC charging device (bar) pin cannot face the human body;
4. The charging generator have short circuit protection device inside. If it always short circuit, the protection device will be damage due to fatigue
5. Static charging bar must be installed on an insulating support, otherwise it will affect the effect.
9. After-sales service and warranty
Our company strictly abide by: product quality first, reputation first, customer first, for my company's products to implement the following commitments:
1, From the purchase date, the fault caused by the machine itself, one year free warranty;
2, More than free warranty period, our company will charge maintenance cost, replacement cost parts and components related costs;
The following conditions do not belong to the scope of free warranty
3.1 Damage caused by irresistible force;
3.2 Damage caused by natural disaster (e.g. thunder) ;
3.3 Damage caused by wrong operation and improper storage;
3.4 Control panel hardware with burnt marks or broken feet, interface, or broken needles, Or the provision of the original product has obvious physical differences;
3.5 Consumable hardware damage;
3.6 Remove without the agreement of our company;
3.7 Someone who cannot provide the warranty document or product warranty card issued by our company.
4, The final explanation right about all terms of warranty belongs to our company.