DJ04-2 Digital Junction Box With Modbus
Item specifics
Catagories

Weighing accessories
Delivery time

7-15 work days
Original

China
Price

USD500 ~ USD5000
Input

6 load cells of 350 ohms/12 load cells of 750 o
Description
Digital Junction Box-DJ04-2 With Modbus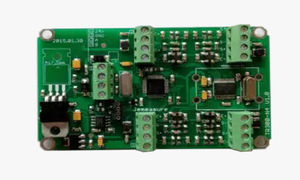 Digital junction box with RS485 output +modbus
The digital junction box is based on resistance strain sensor as signal source,
It is composed of 24bits Σ-Δ type A/D conversion technology and The 8 bit single chip microcomputer etc.large-scale integrated circuit.
It is with high accuracy, high reliability.
Main functions:
¨ panel keyboard settings, capacity calibration
¨ Has function to display weight setting.
¨ Can point out failures, operational error.
¨ RS485 output,Can set the corresponding weight value of 4mA and 20mA.
Main Technical Parameters
A/D sampling rate: 7.5 Times/s~240Times/s optional
Internal resolution: 24bits
Non-linearity: ≤0.005%F.S
Zero drift: ≤0.2μV/℃
Temperature coefficient of capacity: ≤10ppm/℃
Net input signal range of full capacity: 2~20mV
Initial weight signal range: -1~+9mV
Analog input signal sensitivity:0.5uV /d(Minimum) 1.5uV/d(Recommended)
Zeroing range: 100%FS
Display: 6 red LED digital tubes(height of word is 14mm
Amibent temperature of operation: -5℃~ 45℃
Relative humidity: ≯ 90%(Non condensing)
Power supply: +18 ~ +26 VDC,0.5A
Sensor bridge excitation: DC 5V,can connect 6 load cells of 350 ohms or 12 load cells of 750 ohms.
Share Beam Load Cell
NCI Mark V Load Cell
Sensortronics 60048SS Load Cell
Weigh-Tronix Mark V Load Cell
Share Beam Load Cell
Share Beam Load Cell
Capacities

Rated Output

2.0 mV/V

Safe Overload

150%FS

Excitation Voltage

10-20V AC/DC

Input Resistance

385 ± 10 OHMS

Output Resistance

350 ± 3 OHMS

Zero Balance

±1.00%FS

Seal Type

Environmentally sealed, potted IP67

Non-linearity

±0.03%FS

Hysteresis

±0.02%FS

Repeatablity

±0.02%FS

Creep

±0.03%FS

Compensated Temperature Range:

-10℃ - +40℃

Temperature Effect on Zero

Temperature Effect on Output

±0.001%FS/℃

Insulation Resistance

>5000 MEGOHMS

Load Cell Cable

4 Conductor, 10 FT

Load Cell Wiring

Green +EXC

Black –EXC

White +SIG

RED -SIG

Braid/Yellow: Shield